NB: L'offre es valable dans la limite des stocks disponibles

RTL 5
---
Program
ming is a breeze with 
our advanced DSP digital control system or an optional wireless remote that puts all of the controls right in the palm of your hand.  Enjoy multiple interface options with either Mac OS or a Windows PC via Wifi, Ethernet, USB or even an offline USB Flash Drive. The onboard memory makes it convenient to store and execute popular jobs. Or you can take advantage of the handy plugins to launch jobs directly from CorelDraw, AutoCAD and Illustrator.
Raptortech® is the first in the laser industry to offer an All-In-One solution comprised of an integrated water cooling system, exhaust fan and air assist pump. Couple that with a motorized Z table for greater height clearance, optional rotary devices, a honeycomb table for cutting applications and a front access door for introducing oversized items, and you'll quickly realize why many consider the Mira 5 to be in a class of its own.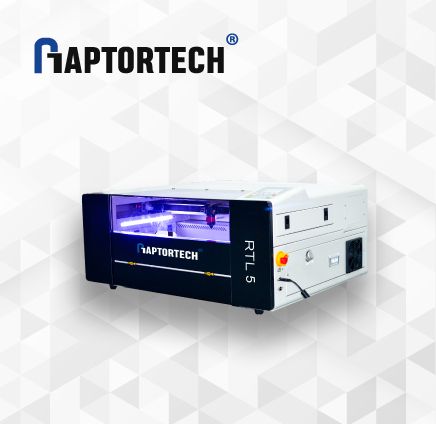 RTL 7
---
Our latest RTL7 professional benchtop model takes it one step further with the added safety of a fully interlocked case and keyed ignition, thus transforming the RTL into a Class 1 laser, the highest safety rating possible. The new design preserves the best features from the previous generation, such as the Clean Pack Design and cutting edge high speeds, while adding some finishing touches, like a fire resistant tempered glass lid, gas shocks and rubber seals. 
Great emphasis was placed on improving the cutting capabilities and the various components required to do so. For example, the entire work table has been overhauled and replaced with a motorized blade table that is fitted with a downdraft exhaust system. The exhaust fan and air assist pump have also been upgraded to help with improving airflow and increasing cutting efficiency. Equipped with a built-in fan cooled water chiller, the RTL7 is ready to be fitted with a mid power laser tube for those users that value cutting capacity just as much as they do engraving.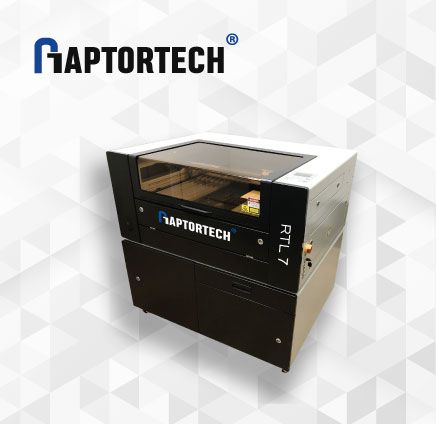 RTL-1390

---
Feature

High-grade design for high attention to details.
1:4 Wheel speed ratio to keep high quality engraving and cutting.
Cover for Laser tube easy open design, check tube condition any time.
External ball screw for lifting, anti-interference to ensure steady performance.
Rear closed/open design; satisfy dust proof and material feeding in one.
Digital Offline control system, USB available, RD and Lettro alternative.
Application

Craft and Advertising Industry-Art craft, wooden packing box, bamboo craft, wooden floor, wooden tablet, wooden pattern, bamboo plaque.
Signage Making Industry-Engraving and cutting on leather sign, embroidery label, trade mark, applique.
Acrylic industry-Acrylic, models, crafts for advertising.
Decoration and building material industry-Marble, gravestone, glass carving, wall brick, marble image picture, craft, gift, souvenir, wedding phone, crystal plaques.
Home textile industry and others-Engraving on table cloth, sofa, cushion, panel cutting and engraving on pieces of Jeans, fabric.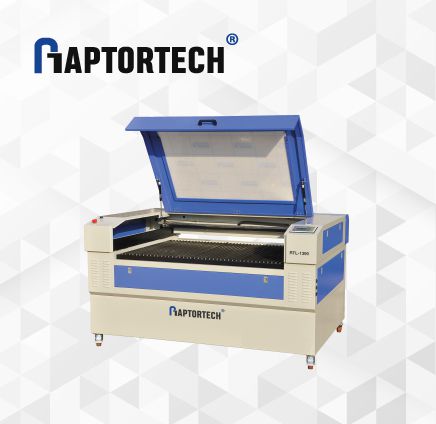 RTL-1325

---
Advertising industry: acrylic, double-color board engraving and cutting and other materials.

Leather and garment industry: leather and cloth engraving and carving.
Craft industry: papercuts, woodwork, bamboo ware, shell and ivory engraving and cutting.
Model industry: construction models, aviation and navigation models and wooden toys.
Packaging industry: flexography, plywood and knife module cutting.
Decoration and Electrical Appliance Industry.